📚 Due Diligence
INFLATION ALERT! By request of u/An-Onymous-Name and several others, a single list with the dive into the banking information that ended up scattered in the comments. *NOW WITH MORE MEMES!!!*
As the title says, I want to consolidate the recent banking information into one post.
First, the conclusion:
While the rest of the world's banks are acting, The Fed still claims this inflation is "transitory."
Hell or high water, they seem intent on trying to follow the playbook from the last crisis:
End asset purchases.
After the balance sheets quit growing then hike rates.
maybe shrink the balance sheet after raising rates.
This approach worked 'well' last time because inflation was so low. As I have been arguing, that is not the environment we are in at this time--people's mindsets have changed about inflation, these prices are getting paid and inflation is running rampant.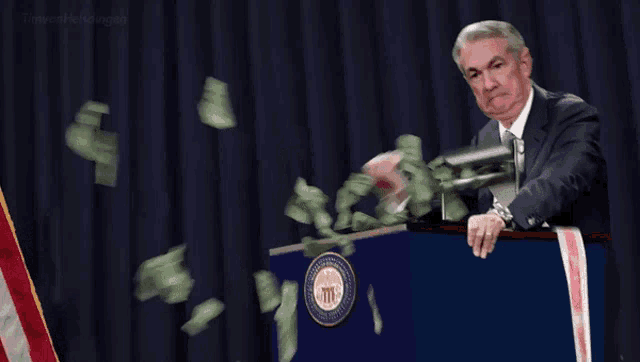 The Fed is asleep at the printer (as all the other world banks taking action while The Fed had up to this point only been talking about talking about doing stuff...)
talking about talking about doing stuff...
Australia
First up, the Australians. First, some level setting on the Australian economy and why inflation is such an issue:
All in jest Australia, this Jellyfish loves you!
https://www.rba.gov.au/media-releases/2021/mr-21-13.html
The Reserve Bank of Australia announced today that it would taper its Quantitative Easing (central bank purchases securities from the market in order to increase the money supply), by reducing weekly purchases of government bonds by A$1 billion a week, to A$4 billion a week--down from A$5 billion per week.
Canada
Canada announced the first reduction in QE back in October last year, from C$5 billion to C$4 billion, when it also ended buying mortgage-backed securities. In March 2021, it started unwinding its liquidity facilities, citing "moral hazard" as the reason. In April, it announced a further reduction, to C$3 billion, citing "signs of extrapolative expectations and speculative behavior" in the housing market.
Canada's balance sheet dropped from C$575 billion at the peak in March, to C$481 billion as of June 30.
England
an "operational decision" that "should not be interpreted as a change in the stance of monetary policy."
The Bank of England announced in May that it would reduce QE, winding down the bond purchases from £4.4 billion a week to £3.4 billion a week.
The Bank of England denied that it is reducing QE, calling it an "operational decision" that "should not be interpreted as a change in the stance of monetary policy."
The reason this does not count, according to BoE governor Andrew Bailey at the post-meeting press conference, is that the BoE didn't change its "fixed amounts" of its overall QE target of £895 billion, it's just buying less per week to get to this target.
Ireland
The Eurosystem is purchasing €60 billion of public sector and private sector bonds per month across four purchase programs. The programs were launched to address the risks of a prolonged period of low inflation. There are four purchase programs, namely the:
*More information on the purchase programs can be found on the ECB's website
Irish-resident banks' outstanding borrowing from the Central Bank as part of Eurosystem monetary policy operations were unchanged in May and stands at €18.6 billion.
Bonus 'Fun fact on housing': Loans for house purchase decreased by €86 million in net terms over the month. In annual terms, the growth rate in May remained positive, at 0.6 percent, but down from 1.6 percent a year earlier. In annual terms, the net flows of lending for house purchase amounted to €451 million, an increase from the month of April, which was €408 million.
Japan
The Bank of Japan on July 2nd showed that its total assets fell by ¥7.7 trillion (~$70 billion) at the end of June compared to the end of May. Balance at ¥717 trillion (~$6.5 trillion).
Ukraine
Not a review of their central bank, but Ukraine working to lock up a strategic natural resource that will help their economy hedge inflation:
https://www.ebrd.com/news/2021/ebrd-supports-private-ukrainian-gas-trader-eru-trading-.html
I think I can update this post as I find more central banks to update with? Thanks and hope everyone enjoyed this dive!