📈 Macroeconomics
ICYMI Weekend Review! (October 17th-21st): A recap of this week's major Economic Reports, Speakers, and Statements
Hello r/Superstonk, I hope everyone is enjoying a nice start to the weekend! This is attempt #2 at tying a bunch of posts from the week together in one spot. A slight shift in format from last time, the week's calendar will come first with discussion below the calendar around themes from the week. Hopefully this is more digestible.
While I have you here, please consider dropping by https://www.reddit.com/r/Superstonk/comments/y2an0w/sec_reopens_comments_for_several_rulemaking/ to make sure your voice is heard.
MONDAY, OCT. 17
TUESDAY, OCT. 18
WEDNESDAY, OCT. 19
THURSDAY, OCT. 20
FRIDAY, OCT. 21
Are we in a recession?
Empire State manufacturing index
Philadelphia Fed manufacturing index
GDP and the Economy: Third Estimates for the Second Quarter of 2022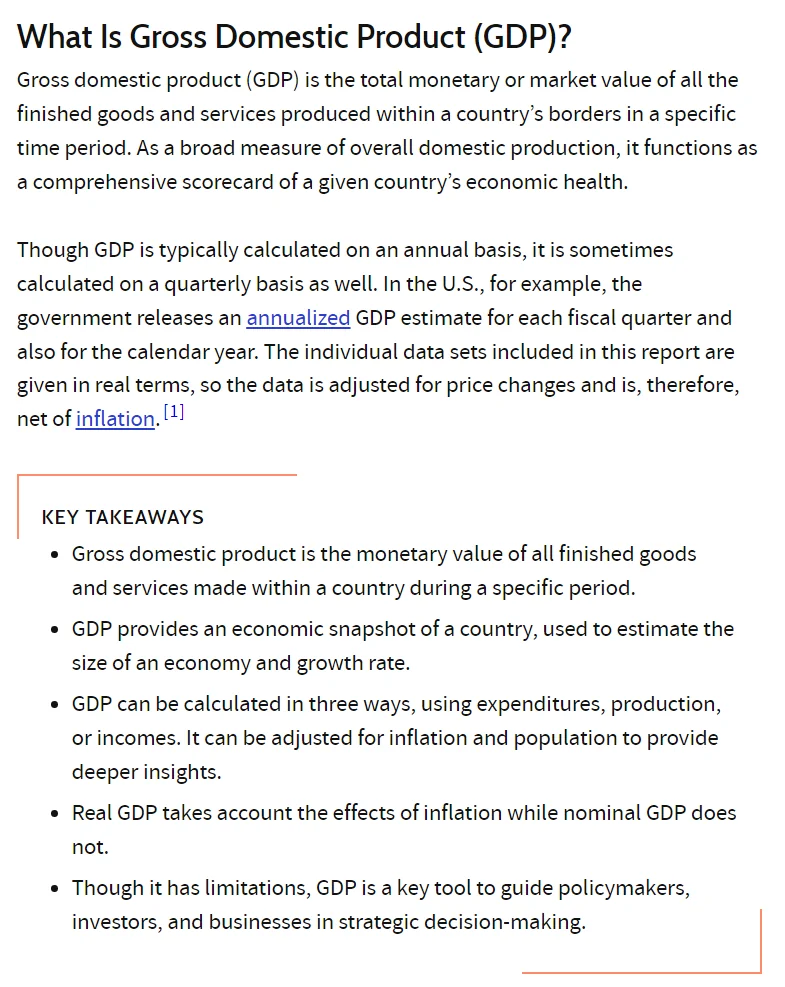 I am sure the term 'recession' will continue to 'change' over the coming days and weeks, but in the 'traditional' sense this week was not 'good'.
On Monday, The New York Fed's Empire State business conditions index, a gauge of manufacturing activity in the state, was negative 9.1 in October. Thursday, the Philadelphia Fed's manufacturing index came in at negative 8.7 for October.
In both instances, any reading below zero indicates deteriorating conditions with these two major regions looking to be a drag on GDP in the near term.
Additionally, according to the Bureau of Economic Analysis, Real gross domestic product (GDP) decreased at an annual rate of 0.6 percent in the second quarter of 2022. In the first quarter, real GDP decreased 1.6 percent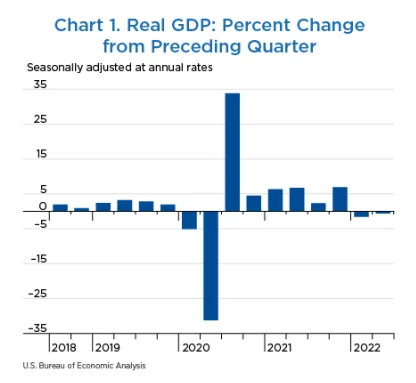 The decrease in real GDP in the second quarter of 2022 occurred amid continued inflation, low unemployment, ongoing supply-chain challenges, and rising interest rates. The economic effects of these factors cannot be quantified in the GDP estimate for the second quarter, because the impacts are generally embedded in source data and cannot be separately identified.
Real GDP decreased 0.6 percent in the second quarter of 2022, following a decrease of 1.6 percent in the first quarter. The decrease in real GDP primarily reflected decreases in private inventory investment, residential fixed investment, federal government spending, and state and local government spending that were partly offset by increases in exports and consumer spending. Imports, which are a subtraction in the calculation of GDP, increased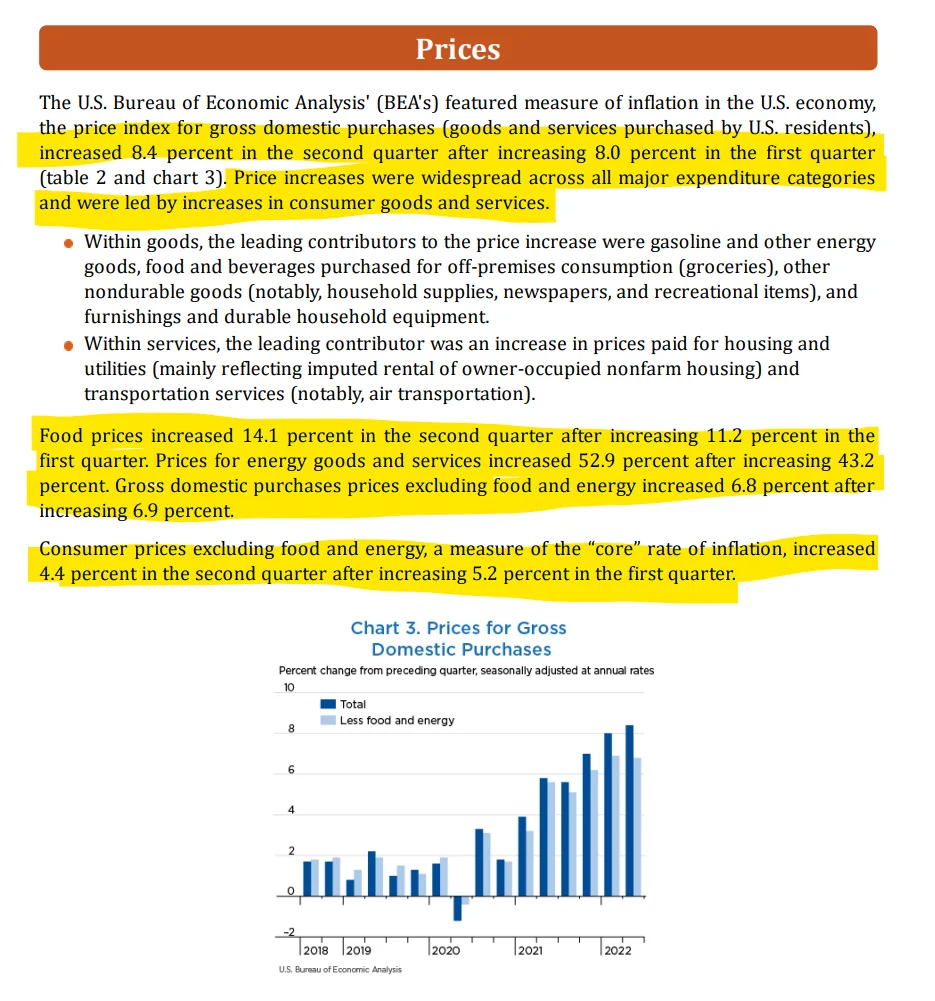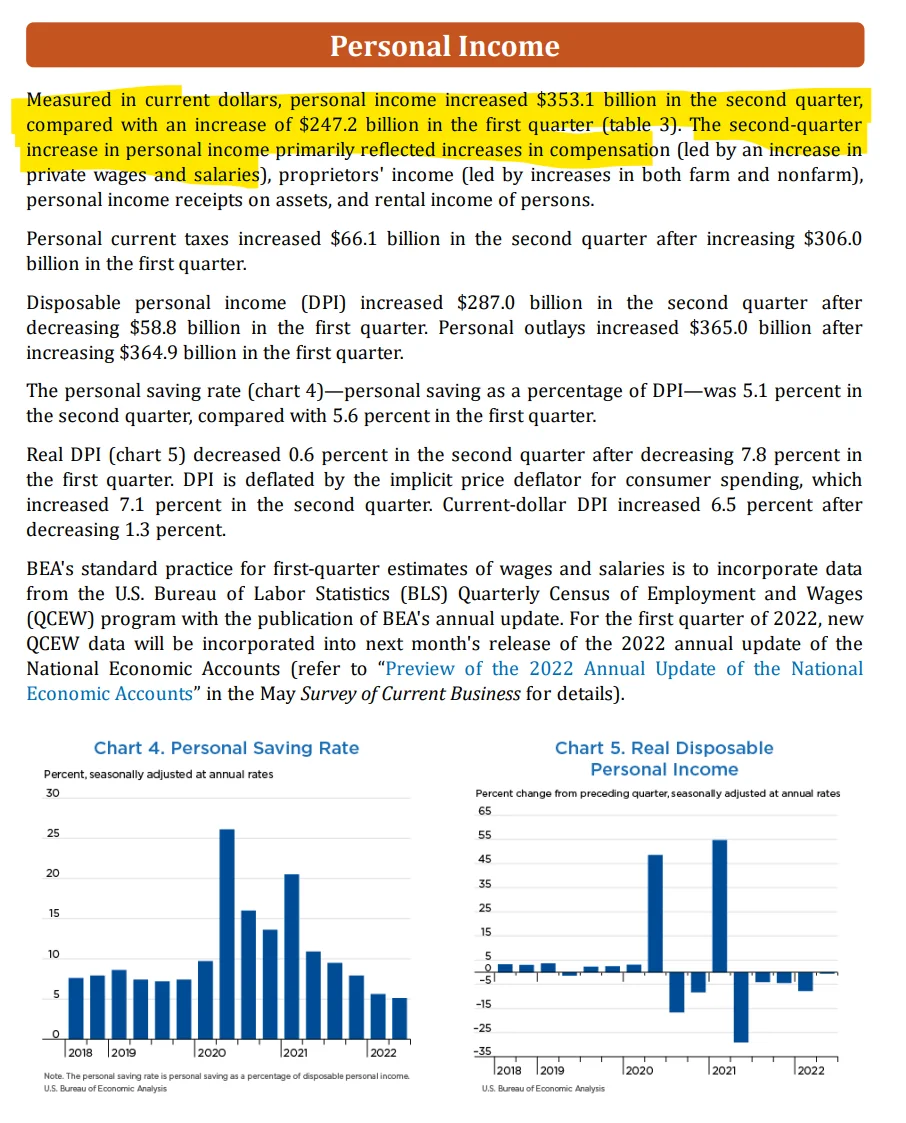 Consumers have been spending like crazy (Prices chart above), but as 'Personal Income' shows, this cannot keep up--folks are drawing down on their savings rate and have less real disposable personal income.
The Bureau of Economic Analysis data is further buttressed by the Conference Board Leading Economic Index, as it decreased by 0.4 percent in September 2022 to 115.9 (2016=100), after remaining unchanged in August. The LEI is down 2.8 percent over the six-month period between March and September 2022.
"The US LEI fell again in September and its persistent downward trajectory in recent months suggests a recession is increasingly likely before yearend," said Ataman Ozyildirim, Senior Director, Economics, at The Conference Board. "The six-month growth rate of the LEI fell deeper into negative territory in September, and weaknesses among the leading indicators were widespread. Amid high inflation, slowing labor markets, rising interest rates, and tighter credit conditions, The Conference Board forecasts real GDP growth will be 1.5 percent year-over-year in 2022, before slowing further in the first half of next year."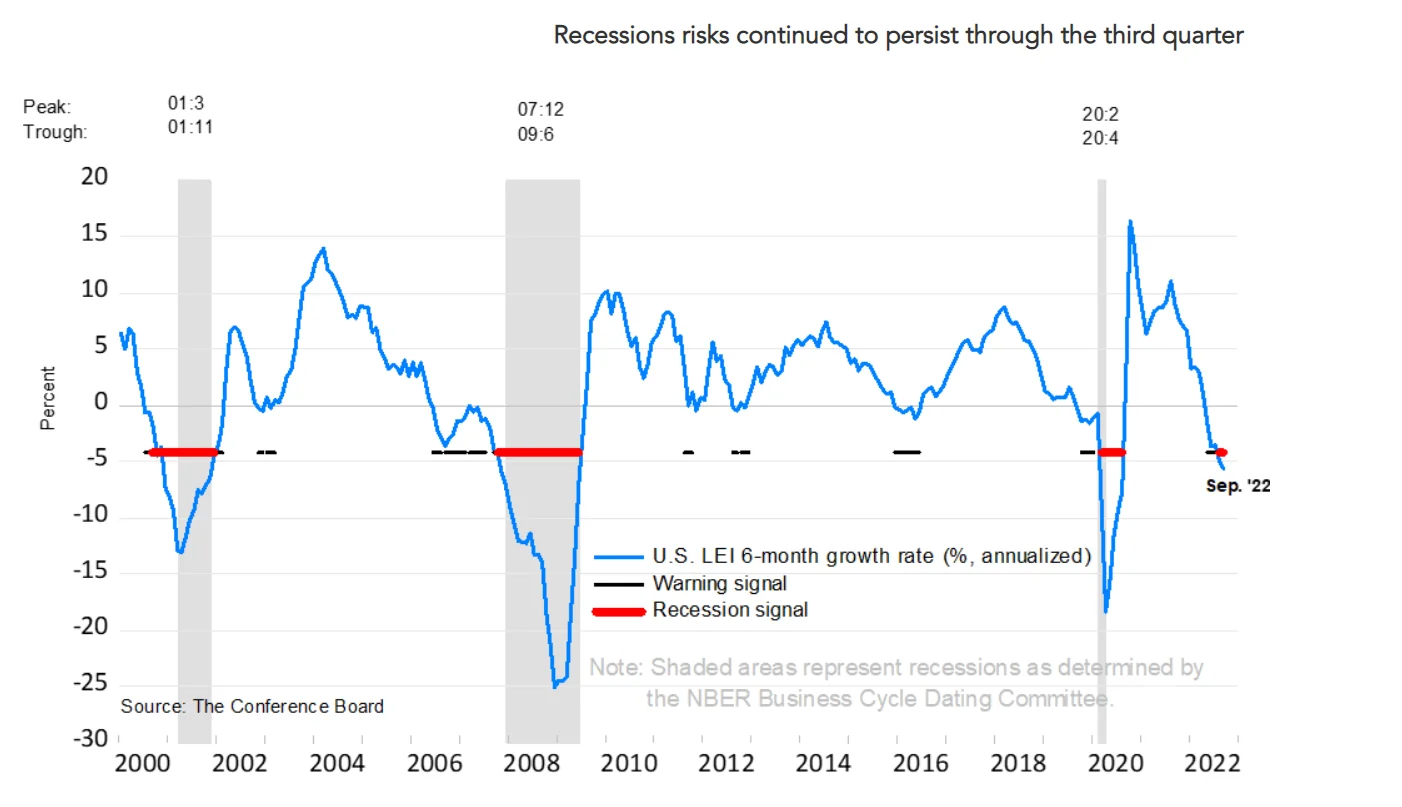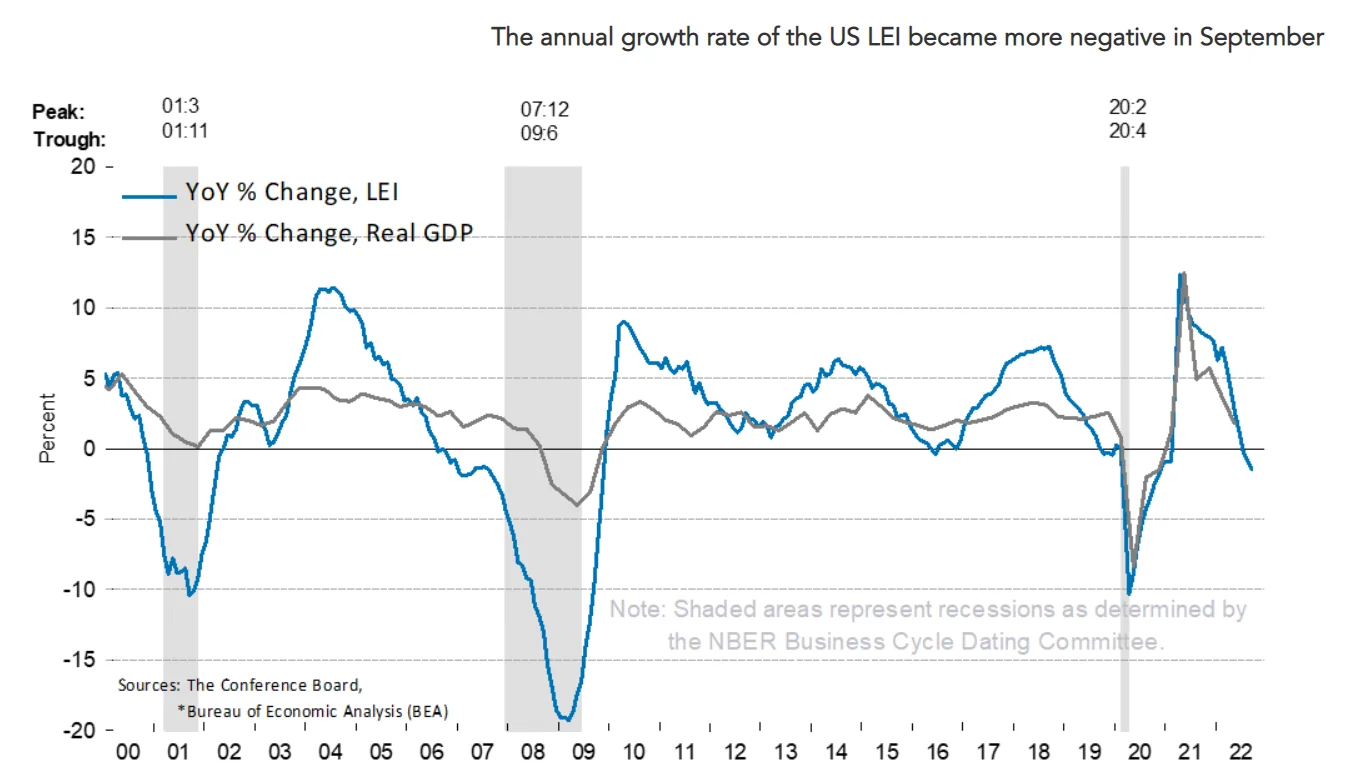 What is the Fed saying?
Atlanta Fed President Raphael Bostic
Minneapolis Fed President Neel Kashkari
Chicago Fed President Charles Evans
St. Louis Fed President James Bullard
San Francisco Fed chief Mary Daly
Atlanta Fed chief Raphael Bostic (who is under investigation after saying he broke trading, investing rules) in speech on inflation:
"Even though there may be some short-run pain, it should lead to long-run significant gain,"

"If we do not get this economy on a stable long-run trajectory, it's going to be hard for us to achieve a maximum employment that includes as many Americans as possible."

"Without stable prices, it is hard to imagine we are going to get the economy into a long-run growth trajectory,"

"The top line message that is front forward for me is that inflation is high, and in fact, it's too high,"

"And we need to get that under control."
Minneapolis Fed President Neel Kashkari:
"I've said publicly that I could easily see us getting into the mid-4%s early next year,"

"But if we don't see progress in underlying inflation or core inflation, I don't see why I would advocate stopping at 4.5%, or 4.75% or something like that. We need to see actual progress in core inflation and services inflation and we are not seeing it yet."

"That number that I offered is predicated on a flattening out of that underlying inflation," Kashkari said. "If that doesn't happen, then I don't see how we can stop."
Chicago Fed President Charles Evans:
"Unfortunately, at the moment, inflation is just much too high, and so we need to continue on the path that we've been indicating -- at least that. And I'm hopeful that that will be enough,"

"Continued increases in the funds rate along the lines of our September SEP could lead to a economic outlook where we're going to see below-trend growth--we'll be challenged in that regard--we'll see the unemployment rate go up, but I think that it won't take off"

"I think if we have to increase the path of the funds rate much more, though, it really does begin to weigh on the economy. I worry that it's sort of a nonlinear kind of event."
Fed Gov. Lisa Cook:
"Inflation is too high, it must come down and we will keep at it until the job is done,"

"This likely will require ongoing rate hikes and then keeping policy restrictive for some time."

"Policy must be based on whether we see inflation actually falling in the data, rather than just in forecasts. Policy should remain focused on restoring price stability, which will also set the foundation for a sustainably strong labor market,"
St. Louis Fed President James Bullard
"You've come off zero. You've gone to this much higher level of the policy rate. But once you're at the right level, then you can just make minor adjustments at that point -- maybe to stay where you are, maybe to go a little bit higher, based on incoming data,"
"This judgment about where you need to be to put meaningful downward pressure on inflation, I think that's a key part of the policy debate in the next two meetings,"
San Francisco Fed chief Mary Daly
"It should at least be something we're considering at this point, but the data haven't been cooperating,"
"we might find ourselves, and the markets have certainly priced this in, with another 75 basis-point increase, but I would really recommend people don't take that away as, it's 75 forever."
"We need to be thoughtful in how restrictive we need to be and that means we need to be data dependent,"
As we can see above, it is a chorus of 'we can't do enough' with regards to taming inflation. This means more rate increases are on the horizon and they are going to get a 'sustainably stronger labor market' by breaking it so folks earn less. This is what they consider foundationally stronger moving forward? YIKES!
EDIT: Daly seems to want to open the door to letting the 'foot off the gas' when it comes to rate hikes.
Housing gets 'thumped' in September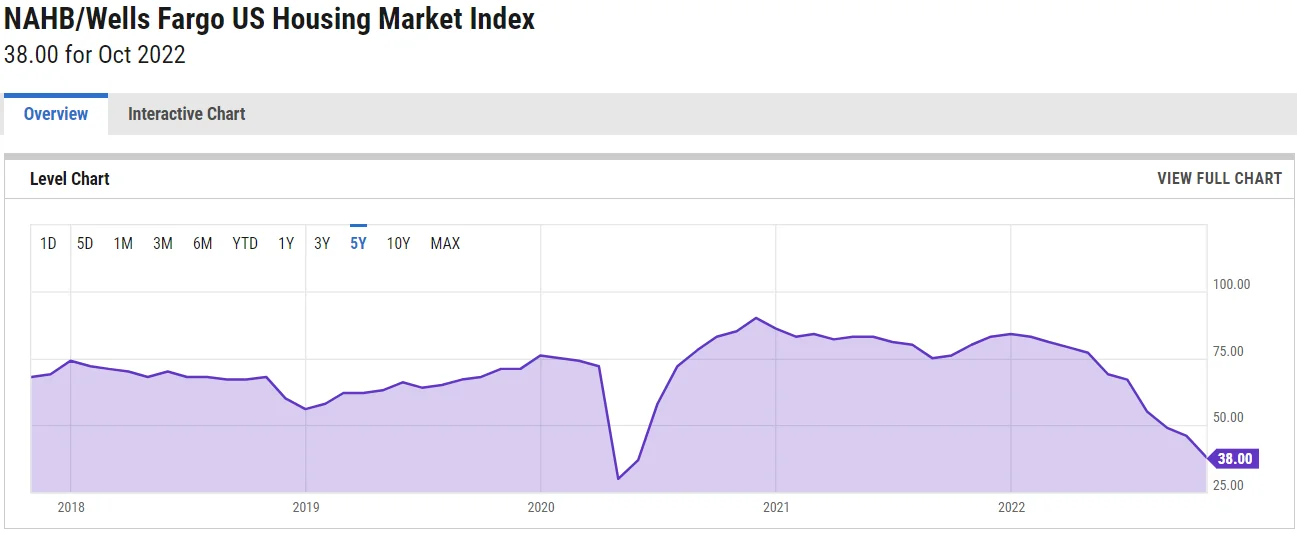 In a further signal that rising interest rates, building material bottlenecks and elevated home prices continue to weaken the housing market, builder sentiment fell for the 10th straight month in October and traffic of prospective buyers fell to its lowest level since 2012 (excluding the two-month period in the spring of 2020 at the beginning of the pandemic).
Builder confidence in the market for newly built single-family homes dropped eight points in October to 38—half the level it was just six months ago—according to the National Association of Home Builders (NAHB)/Wells Fargo Housing Market Index (HMI) released today. This is the lowest confidence reading since August 2012, with the exception of the onset of the pandemic in the spring of 2020.
"High mortgage rates approaching 7% have significantly weakened demand, particularly for first-time and first-generation prospective home buyers," said NAHB Chairman Jerry Konter, a home builder and developer from Savannah, Ga. "This situation is unhealthy and unsustainable. Policymakers must address this worsening housing affordability crisis."
"This will be the first year since 2011 to see a decline for single-family starts," said NAHB Chief Economist Robert Dietz. "And given expectations for ongoing elevated interest rates due to actions by the Federal Reserve, 2023 is forecasted to see additional single-family building declines as the housing contraction continues. While some analysts have suggested that the housing market is now more 'balanced,' the truth is that the homeownership rate will decline in the quarters ahead as higher interest rates and ongoing elevated construction costs continue to price out a large number of prospective buyers."
While foot traffic to new homes has collapsed, housing starts have slowed as well According to the Census Bureau: Construction starts of all types was down 8.1% in September from August, and by 7.7% year-over-year, to a seasonally adjusted annual rate (SAAR) of 1.44 million housing units.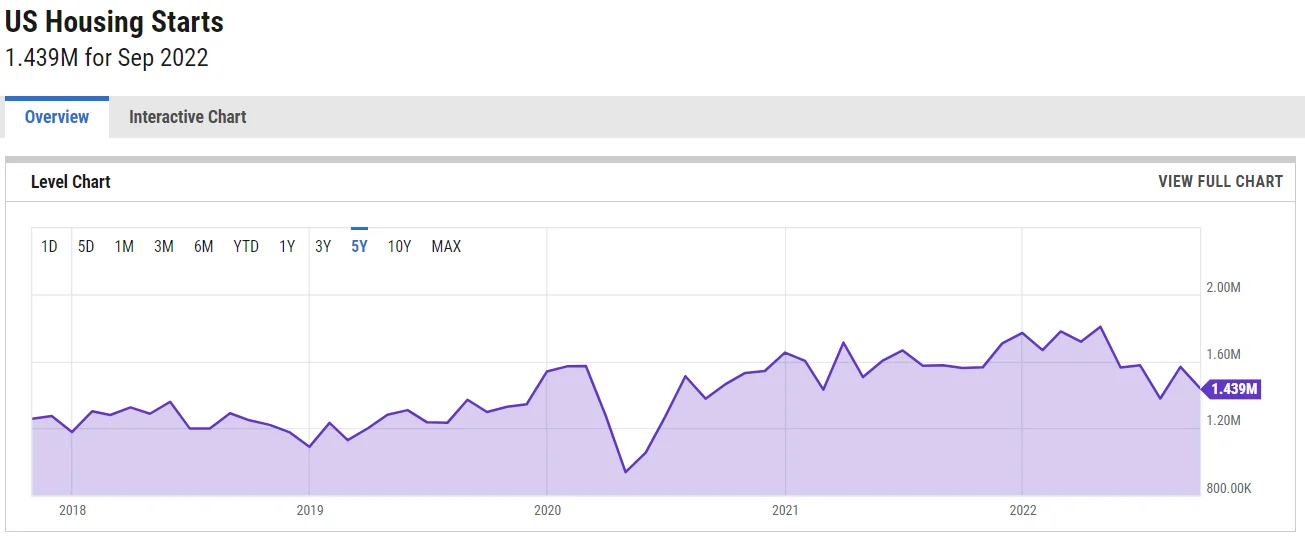 Additionally, sales of previously owned homes decreased for the 8th straight month (down 1.5% from August) to a seasonally adjusted annual rate of sales of 4.71 million homes: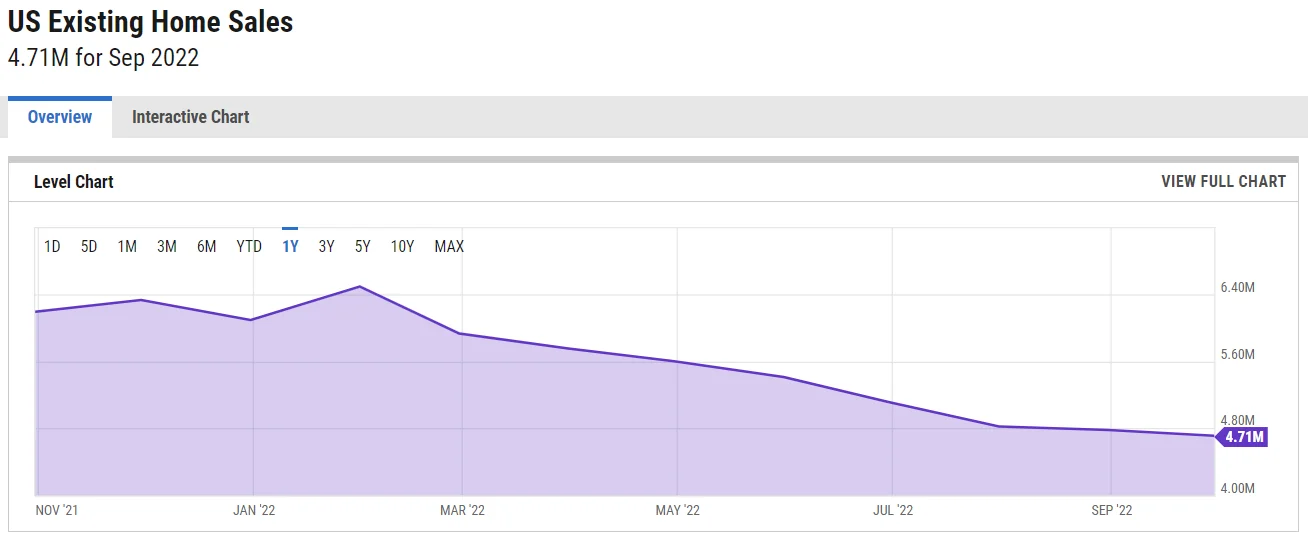 US Existing Home Sales reflects the total unit sales of US homes that are already built. This is a lagging indicator tracking the US housing market, which is impacted by a change in mortgage rates--that continue to jump!
US Existing Home Sales is at a current level of 4.71M, down from 4.78M last month and down from 6.18M one year ago. This is a change of -1.46% from last month and -23.79% from one year ago.
US Existing Home Median Sales Price is at a current level of 384800.0, down from 391700.0 last month and up from 355100.0 one year ago. This is a change of -1.76% from last month and 8.36% from one year ago: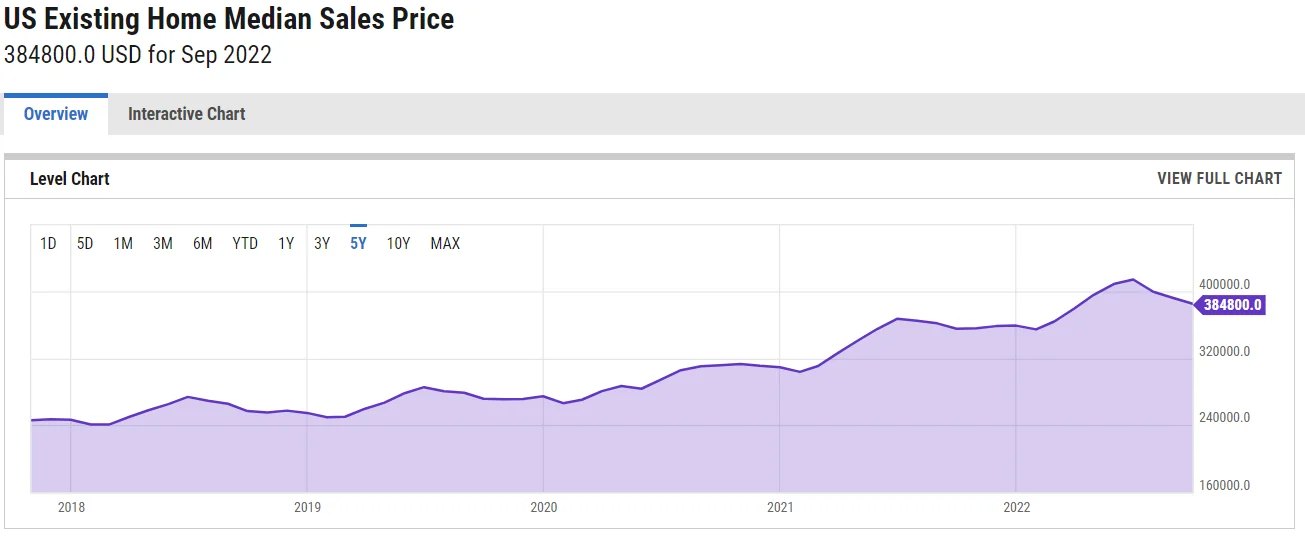 The Inspector General's Statement on the SEC's Management and Performance Challenges, October 2022.
The Inspector General's Statement on the SEC's Management and Performance Challenges
We met with managers from the SEC's divisions of Trading and Markets, Investment Management, Corporation Finance, and Economic and Risk Analysis, some of whom raised concerns about increased risks and difficulties managing resources and other mission-related work because of the increase in the SEC's rulemaking activities. For example, some reported an overall increase in attrition (discussed further on page 21 of this document) and difficulties hiring individuals with rulemaking experience. In the interim, managers reported relying on detailees, in some cases with little or no experience in rulemaking. Others told us that they may have not received as much feedback during the rulemaking process, either as a result of shortened timelines during the drafting process or because of shortened public comment periods. Although no one we met with identified errors that had been made, some believed that the more aggressive agenda—particularly as it relates to high-profile rules that significantly impact external stakeholders—potentially (1) limits the time available for staff research and analysis, and (2) increases litigation risk. Finally, some managers noted that fewer resources have been available to complete other mission-related work, as rulemaking teams have borrowed staff from other organizational areas to assist with rulemaking activities.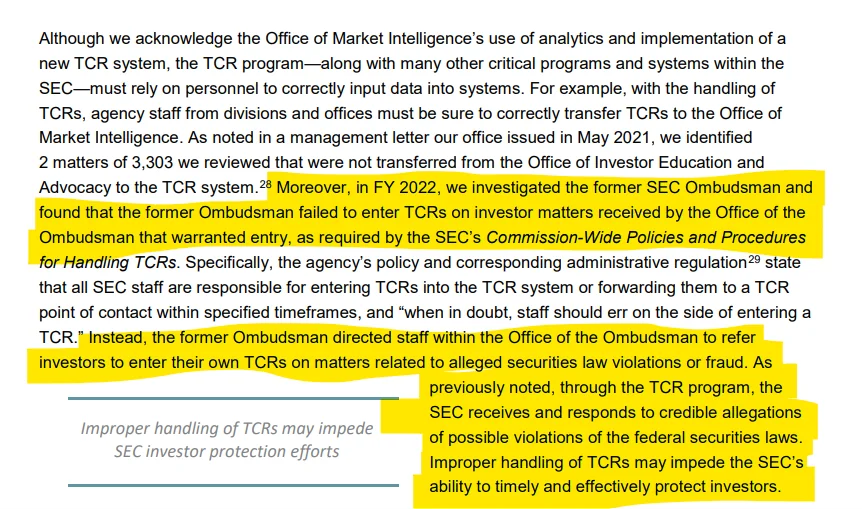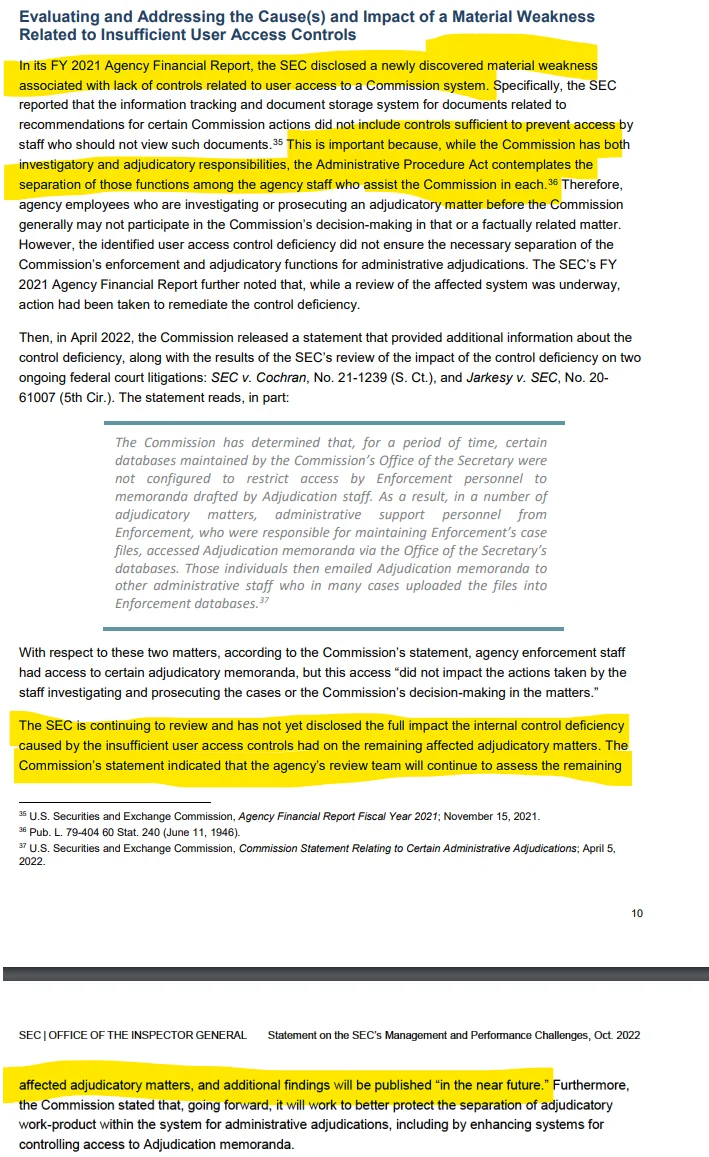 For FY 2021 the agency's information security program did not meet accepted reporting metrics' definition of "effective":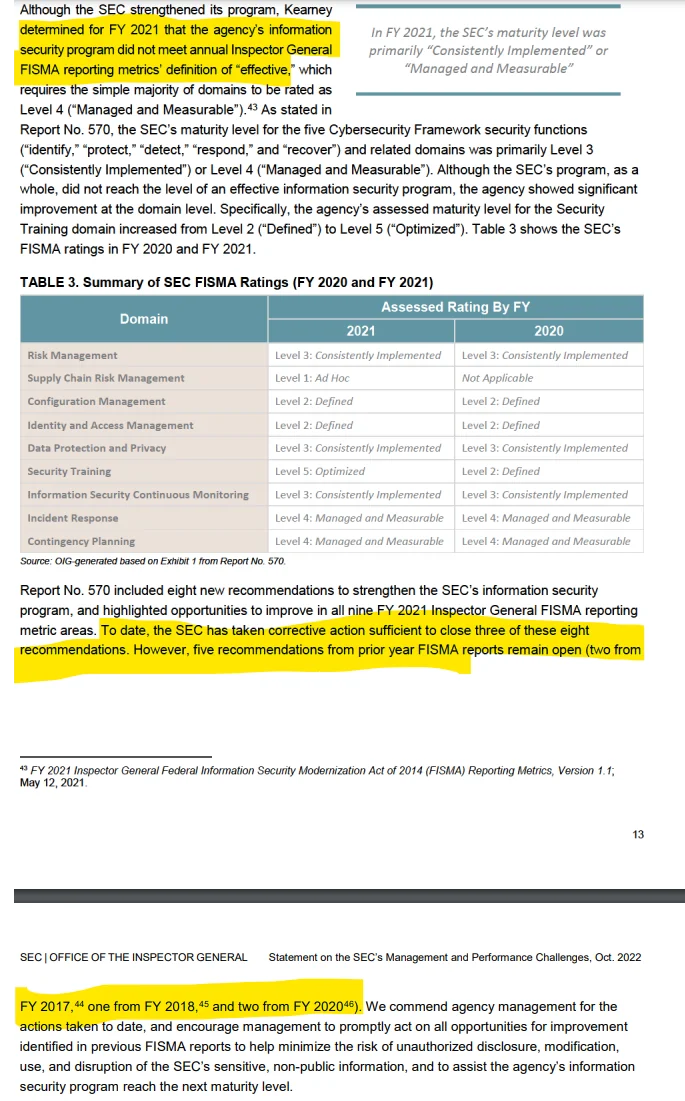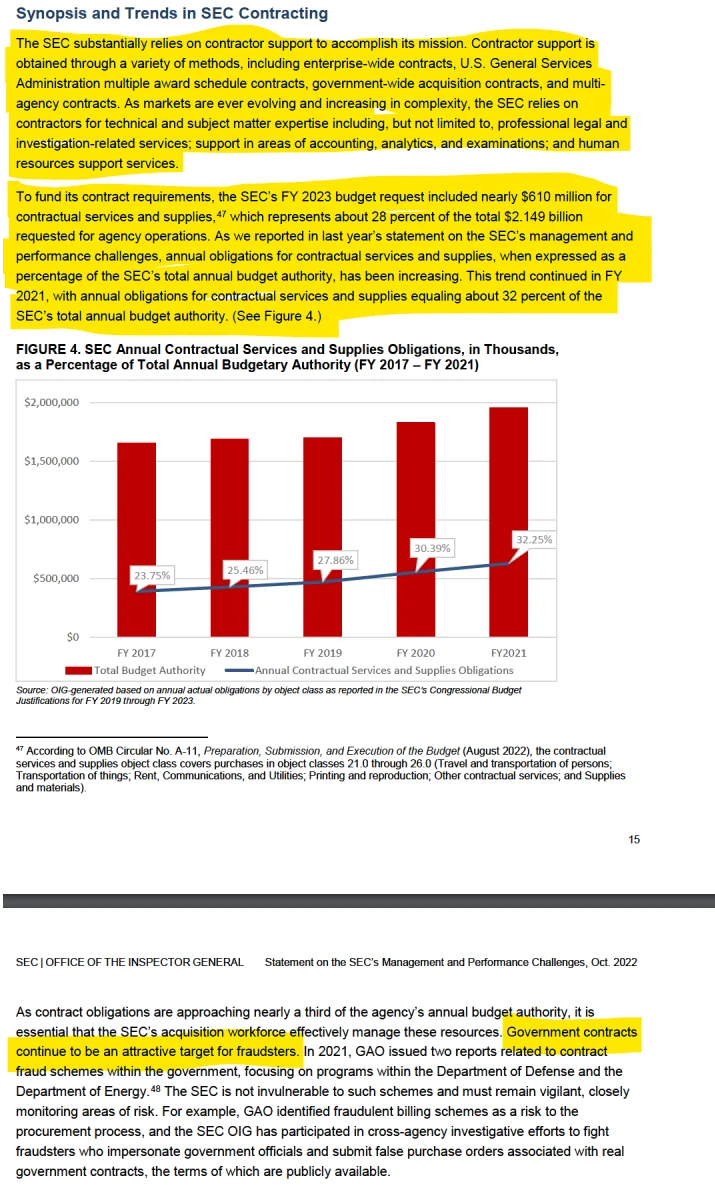 28% of FY2023 budget is requested for contractors--nearly 1/3 of agency's annual budget. I am sure this is amplified by it taking 100 days to onboard someone if they were to be hired through traditional channels.
What an attrition rate.
yeesh!
A Meme to close us out: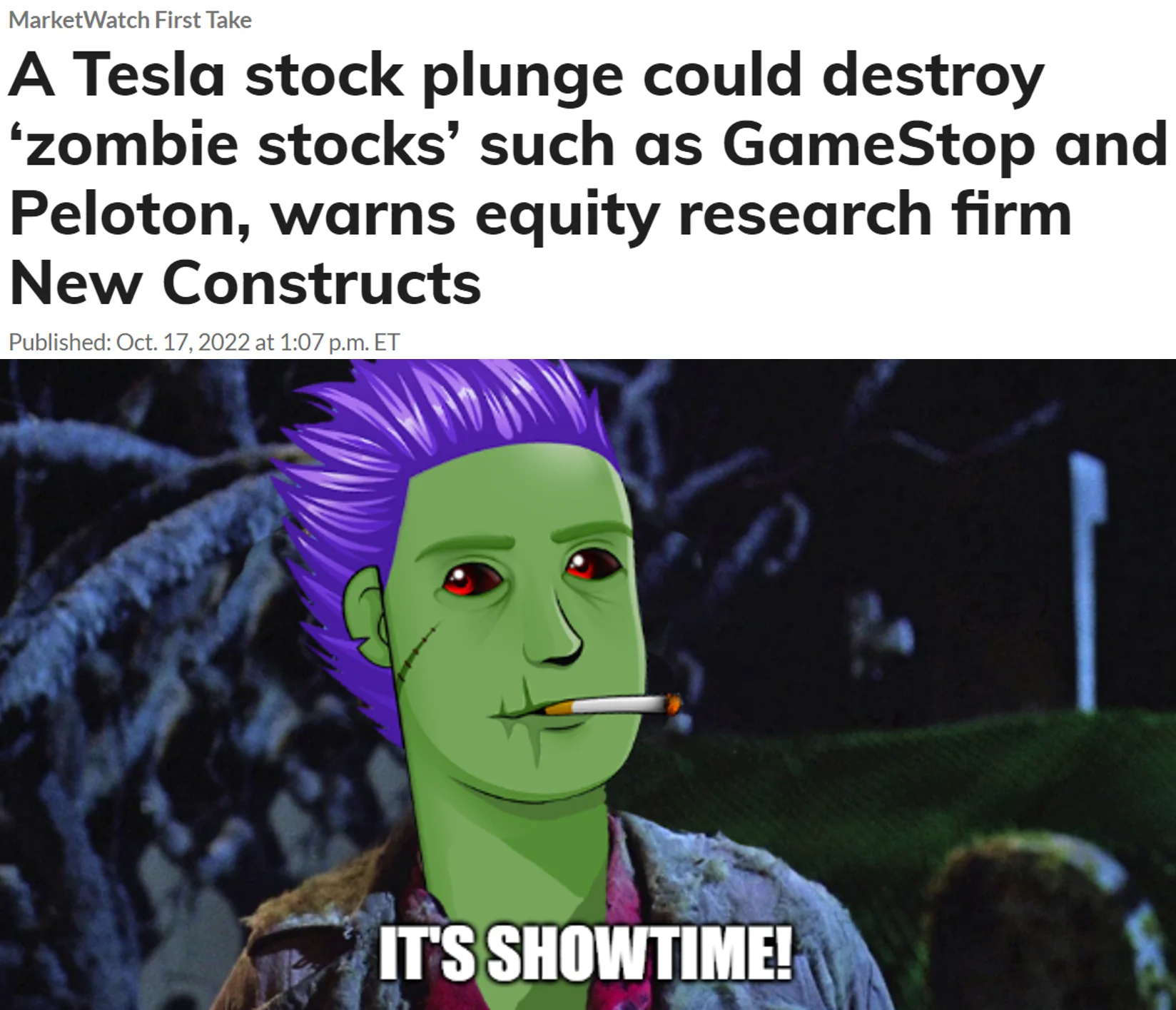 Thanks for dropping by and I hope everyone has a wonderful rest of the weekend!