📰 News
'Citadel Securities Is Muscling Its Way Into Credit Trading'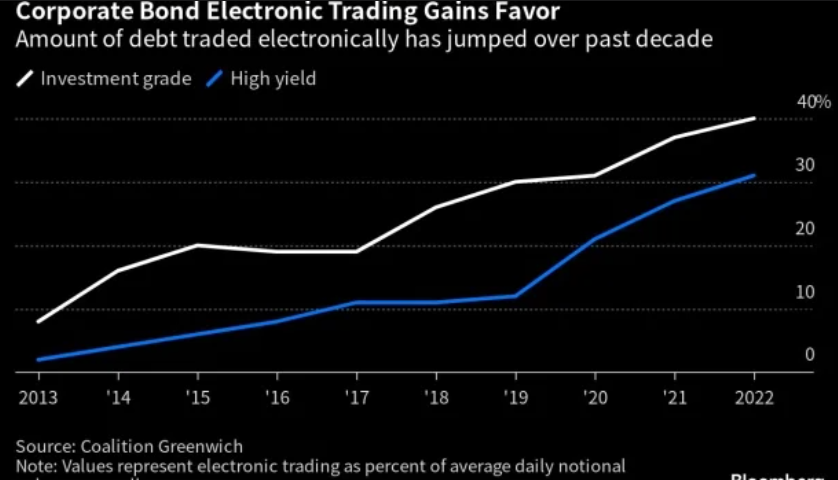 https://dnyuz.com/2023/07/25/citadel-securities-is-muscling-its-way-into-credit-trading/
Highlights:
Citadel Securities is entering the corporate debt world, competing with Wall Street banks.
The firm recently began offering investment-grade trading and will soon introduce high-yield bond trading.
Already handling over one-third of all US retail stock trades via online platforms like Robinhood, Citadel is expanding into fixed income. They plan to offer portfolio trades, boosted by the growth of ETFs.
Previously partnering with MarketAxess Holdings, Citadel now plans to collaborate with platforms such as TradeWeb Markets and Bloomberg.
The firm's global head of fixed-income distribution, Jordan Cila, commented that it's a logical extension for the firm.
Citadel, led by CEO Peng Zhao, handles about one in every five US stock trades, using algorithms to benefit from minute price differences, and made about $7.5 billion in revenue last year.
Historically, corporate bond trading has been more traditional, but that's changing. Now, 40% of investment-grade bond trading is electronic, a significant rise from 8% in 2013. High-yield bond electronic trading also saw growth.
Other firms, like Jane Street, are also trading corporate bonds, and Bloomberg LP offers related services.
Citadel has been successfully leveraging tech trends, making it a significant Wall Street entity. It now offers liquidity in 10,000 investment-grade securities and plans to expand further.
TLDRS:
Citadel Securities is venturing into corporate debt, posing competition to Wall Street banks.
They've started with investment-grade trading and will soon add high-yield bond trading.
Citadel aims to deepen its presence in fixed income, facilitated by ETF growth.