🌡️ Inflation
Canada Retail Sales down .1% to $66.1 billion in August. Core retail sales—which exclude gasoline stations and fuel vendors and motor vehicle and parts dealers—were down 0.3% in August. A .3% decrease was expected...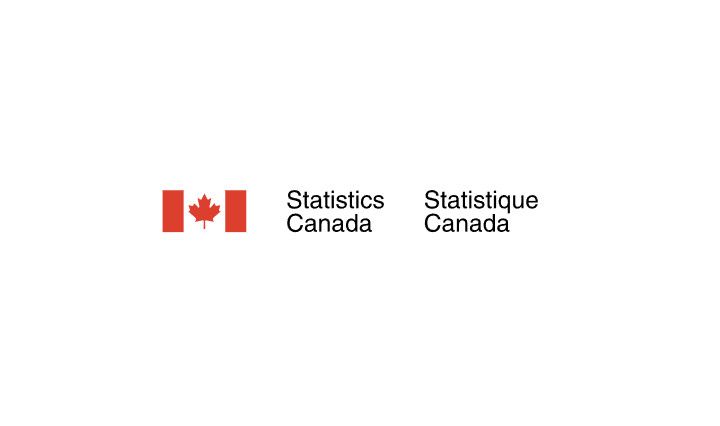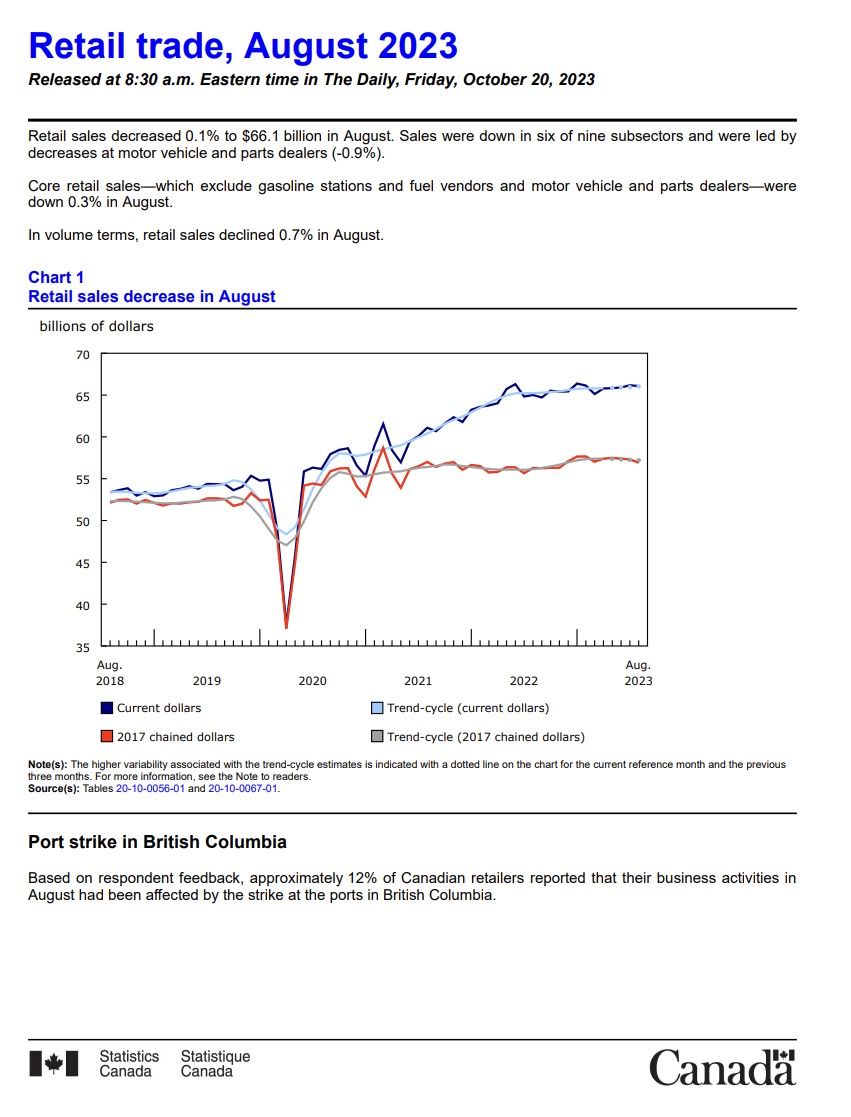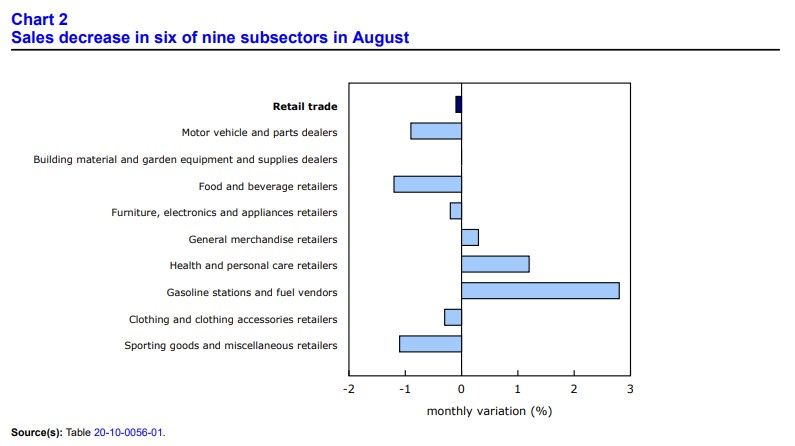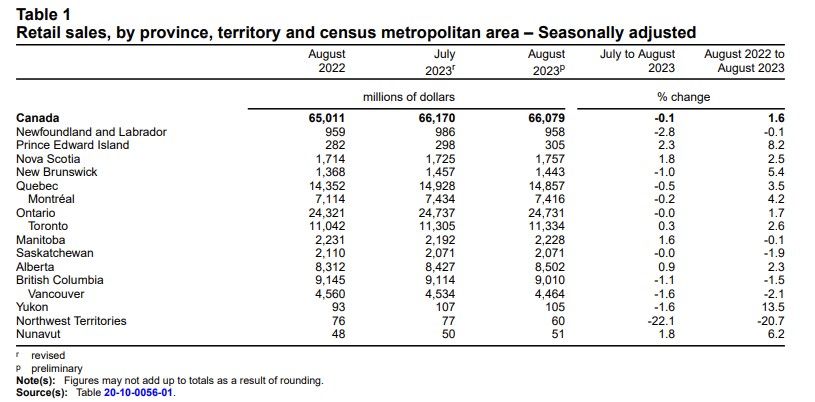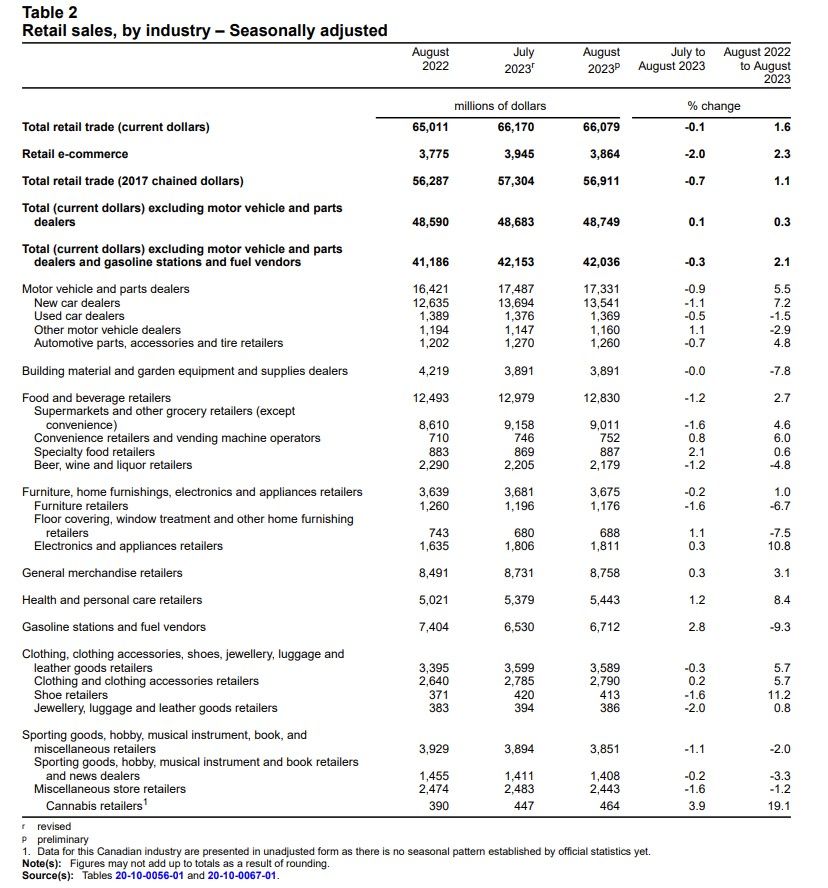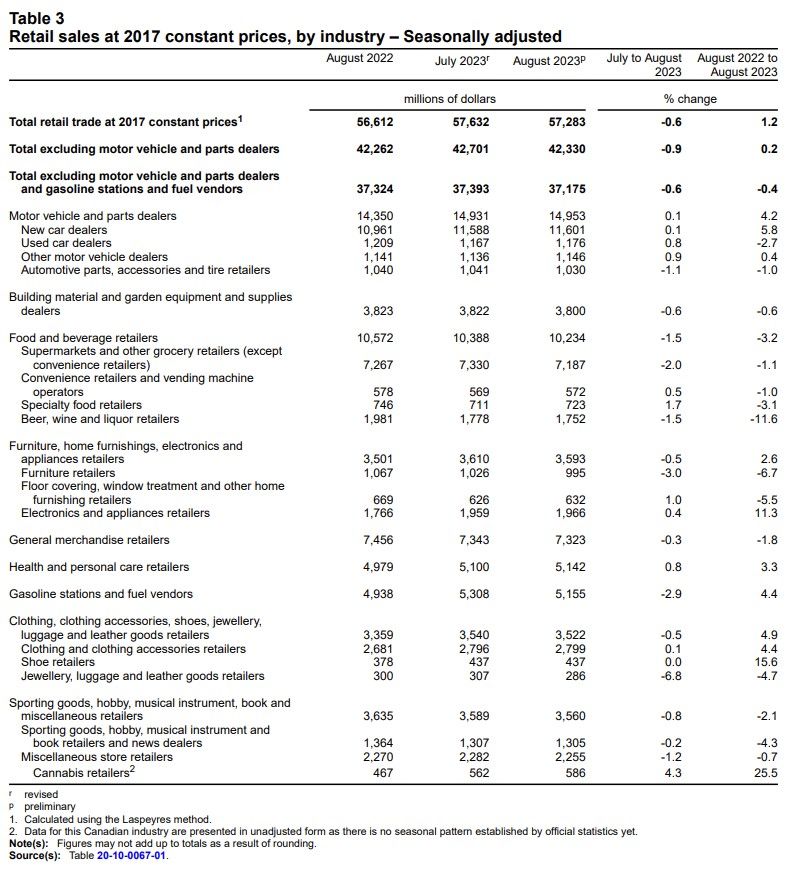 Wut Mean?:
Retail sales decreased by 0.1% to $66.1 billion in August.
Six of nine retail subsectors saw decreased sales.
Largest decrease: Motor vehicle and parts dealers (-0.9%).
Core retail sales (excluding gasoline stations, fuel vendors, and motor vehicle and parts dealers) decreased by 0.3%.
Retail sales volume declined by 0.7%.
About 12% of Canadian retailers reported being affected by the British Columbia port strike in August.
Sales at new car dealers decreased by 1.1% and at used car dealers by 0.5%.
Other motor vehicle dealer sales increased by 1.1%.
Largest retail sales increase: Gasoline stations and fuel vendors (+2.8%); however, their sales volume decreased by 2.9%.
Core retail sales drops were led by food and beverage retailers (-1.2%) and sporting goods, hobby, and related retailers (-1.1%).
Largest increase within core retail sales: Health and personal care retailers (+1.2%).
Retail sales decreased in six provinces, with British Columbia having the most significant decrease (-1.1%).
In Vancouver, sales decreased by 1.6%.
Retail sales in Quebec dropped by 0.5%, and in Montréal, they decreased by 0.2%.
Largest provincial sales increase: Alberta (+0.9%), primarily due to gasoline stations and fuel vendors.
Significant sales drop of 22.1% in the Northwest Territories, aligned with wildfire evacuations.
Retail e-commerce sales decreased by 2.0% to $3.9 billion, accounting for 5.8% of total retail trade.
Early estimate for September retail sales suggests no change; this is based on 36.5% response rate from surveyed companies.
Recall, retail sales are a part of the consumption component of GDP. GDP is calculated as the sum of consumption, investment, government spending, and net exports. Hence, any significant change in retail sales can influence the GDP figure.
Thus, retail sales data is often used as a barometer for consumer spending, which is a major driver of economic growth and, currently, the Bank of Canada's progress (or lack there of) battling inflation.
High consumer spending can continue to drive up inflation, especially if demand outstrips supply or firms just keep raising prices.
Since the Bank of Canada has observed consumer spending (as reflected in retail sales) remains high and above expectations (which this reporting certainly is and their guidance is flat for September) will it continue to raise rates moving forward?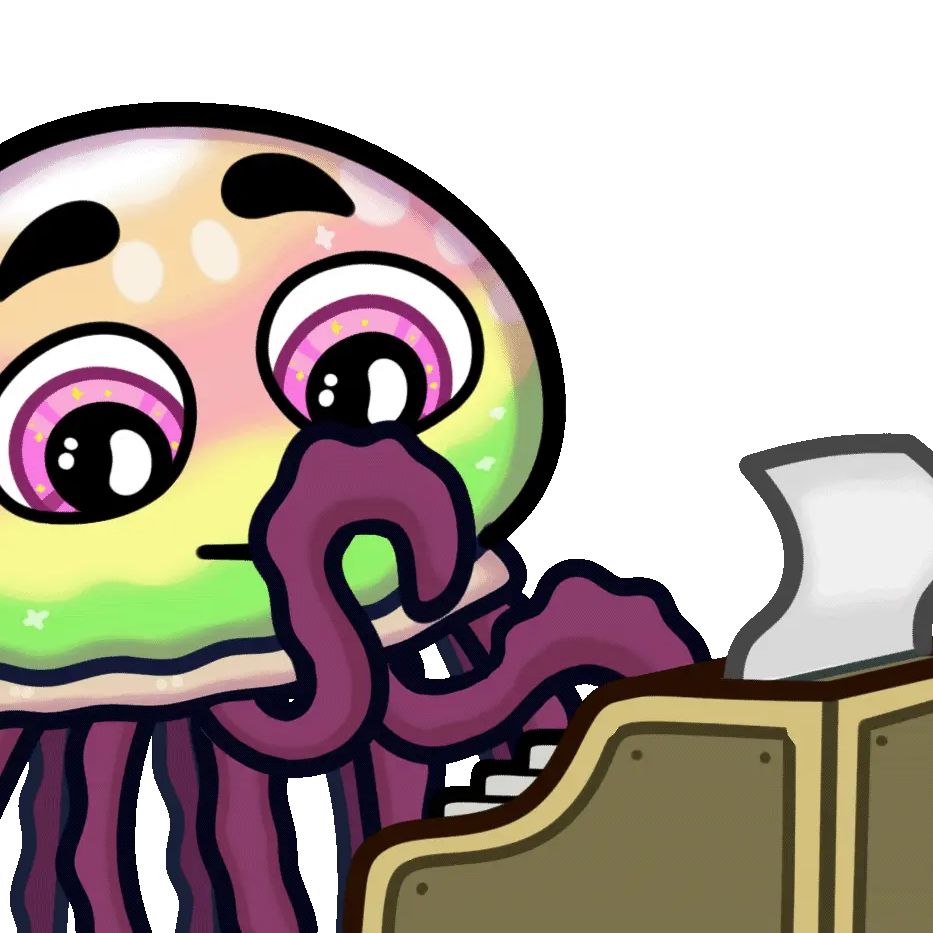 TLDRS:
Canada retail sales in August decreased by 0.1% to $66.1 billion, with six of nine subsectors witnessing a decline.
However, a bigger decline was anticipated, indicating inflation is still not tamed.
Given that retail sales reflect consumer spending, a major driver of economic growth and inflation, the continued high retail sales is likely to prompt the Bank of Canada to consider raising interest rates to further try and fight inflation, especially with September's guidance showing flat growth.
More inflation fuel!
Reminder, while banks have the liquidity fairy, 'we' get the promise of more rate hikes this year, Atlanta Fed President Raphael Bostic yet again enrichens himself inappropriately from his position.
To fix one end of their mandate (price stability) from the inflation problem they created, the US Fed will continue sacrificing employment (the other end of their mandate) to bolster price stability by continuing to raise interest rates--causing further stress to businesses and households.
This places other central banks in a bind--BoC is only supposed to focus on inflation but now employment impacted.