🗣 Discussion / Question
6/30 JPow met with Rich Tang, Rokos Capital Management. At the end of March, Rokos (a hedge fund) decided to de-risk, following double-digit losses. Why the meeting with JPow? Is this hedge fund getting ready to blow up?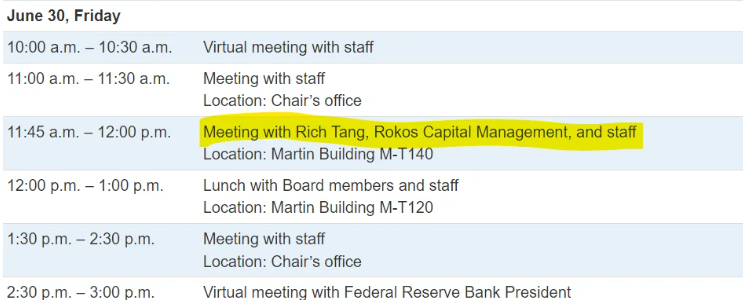 London-based hedge fund Rokos Capital Management told investors in a letter on Saturday that it has decided to de-risk, following double-digit losses this month.

"We have de-risked following this month's market price action," the hedge fund said in the letter which was seen by Reuters. It added that cash remains "at healthy levels" and that counterparties have not requested additional margin.

Rokos lost 15.3% this month through March 17 and has lost 9.8% so far this year.

Many hedge funds have been badly wrong-footed by high volatility in the bond market. Investors had been extremely bearish on U.S. Treasuries, but the rapid collapse of Silicon Valley Bank forced traders to reverse their bets on higher rates.

Rokos, which manages roughly $15.5 billion, also told investors that it played no part in discussions about recent losses with bets on U.S. government bonds between the U.S. Securities and Exchange Commission and the UK Financial Conduct Authority.

On Friday, the Financial Times reported that SEC Chair Gary Gensler brought up Rokos in calls with UK regulators, following its losses.

The hedge fund told investors it continues to have normal interactions with regulators and that they have not expressed any concern specific to the firm.

News of the letter was first reported by Bloomberg.
De-risking ( De-Banking):
De-risking refers to the phenomenon of financial institutions terminating or restricting business relationships with clients or categories of clients to avoid, rather than manage, risk. The State Department's Office of Threat Finance Countermeasures within the Bureau of Economic and Business Affairs (EB/TFS/TFC) monitors reports of de-risking and its drivers, including reports related to the termination of correspondent banking relationships and the closure of accounts of humanitarian assistance groups, money service businesses, and foreign missions in the United States among others. We seek to promote financial inclusion and transparency while ensuring that the U.S. financial system is protected from money laundering and terrorism finance.
Source: https://www.state.gov/de-risking/ Thank you Chato35!
TLDRS:
The head of a distressed hedge fund actively de-risking and manages $15.5 billion has meeting with Jerome Powell.
AUM for hedge funds is ~$5T +/- as of early 2023
Rokos is 0.00312 of the Hedge Fund AUM
Is this hedge fund getting ready to blow up?
Shouldn't JPow ONLY care if it represented systemic risk?
What's 1 hedge fund in trouble otherwise?